Huawei
How to Adjust Camera Shutter Settings
Huawei
1282
Table of contents
---
Camera timer
A self timer is a feature on your Huawei device, that allows you to take pictures automatically, without having to press the button. You can predefine a countdown of either 3,5 or 10 seconds.
Android 10 (EMUI 10.0)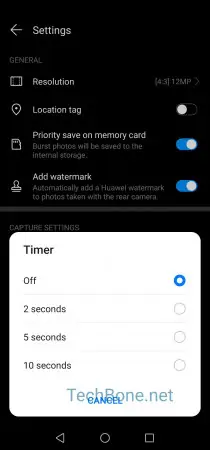 Open Camera
Open the settings
Tap on Timer
Choose either 2, 5 or 10 seconds
---
Fingerprint sensor as camera shutter
We can use the Huawei smartphone's fingerprint sensor as a camera trigger or shutter when this function or feature is enabled. So then take a photo or video by simply holding down the sensor.
Android 10 (EMUI 10.0)
Open the Settings
Tap on Biometrics & password
Tap on Fingerprint ID
Enable or disable Take a photo/video
---