Huawei
How to Manage Calendar
Huawei
394
Table of contents
---
Share event
We can share the appointments in the Calendar app at any time by selecting an appointment and forwarding it to one or more people or saved contacts using the app of our choice, for example Messages, Gmail or WhatsApp, if installed.
Android 10 (EMUI 10.0)
Open the Calendar app
Choose an event
Tap on Share
Choose an app and follow the instructions on screen
---
Delete event
The created appointments or events can also be deleted in the calendar app if they are no longer needed or if something has overlapped. When deleting an event with repetition, the Huawei smartphone asks us whether only the one appointment or all appointments should be deleted.
Android 10 (EMUI 10.0)
Open the Calendar app
Choose an event
Tap on Delete
Choose Only this event or All events
Confirm with Delete
---
Create event
Thanks to the appointment or event creation in the calendar app of the Huawei smartphone, we no longer miss appointments for events or meetings.
Appointments can be created at any time with various settings, including the following options:
Title
Location
All day
Start and end time
Add reminder
Account selection for synchronization
Description
Repeat
Time zone
Android 10 (EMUI 10.0)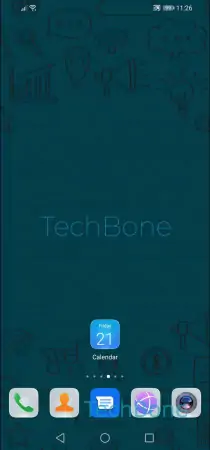 Open the Calendar app
Tap on New event
Enter a title
Enter a location
Set more options
Tap on Save
---