LG
How to Adjust Status bar
LG
979
Table of contents
---
Rearrange Quick Settings
In the status bar of the LG device, you can find the quick settings, which allow you to quickly turn settings and functions on or off. The arrangement of tiles in the quick settings can be changed and a custom sequence can be defined. You can also hide settings that you do not need.
The quick settings also include brightness, volume, file exchange and SIM card change settings for dual SIM in widget form, which can also be shown or hidden on the LG device, see steps 8-9.
Android 9 (LG UX 9.0)
Open the Notification bar
Open the Quick settings
Tap on Edit
Tap and hold desired Quick setting
Drag the setting to the desired position
Confirm with Save
---
Customize Status bar
The upper status bar can be adjusted on the LG device. The settings allow you to change the colour of the status bar, whereby only predefined colours are available. Unfortunately, a separate colour selection is not available.
Also for devices with a notch, this can be hidden by setting the color of the status bar to black.
Another way to customize the status bar on the LG device is the app limit, which allows you to reduce/enlarge the radius of the upper screen content.
Android 9 (LG UX 9.0)
Open the Settings
Tap on Display
Tap on New Second Screen
Tap on Custom
Choose desired Color
---
Show or Hide Notifications
On the LG smartphone, the status bar shows the time and notification icons, and you can disable the app icons in the status bar if you wish.
However, only the icon is hidden and the notification remains available when the status bar is opened.
Android 9 (LG UX 9.0)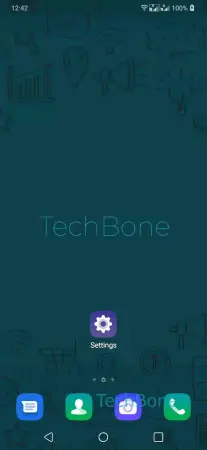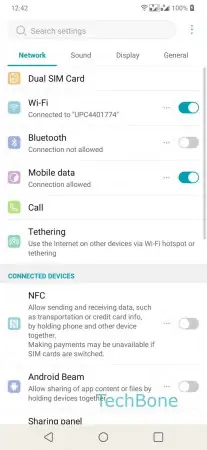 Open the Settings
Tap on General
Tap on Apps & notifications
Tap on Notifications
Enable or Disable Status bar icons
---
Battery Percentage
The LG smartphone's status bar shows the battery level as a percentage, displayed next to the battery icon, but can also be turned off in the settings.
Android 9 (LG UX 9.0)
Open the Settings
Tap on General
Tap on Battery
Enable or Disable Battery percentage on status bar
---
Hide Camera Notch
On LG smartphones that have a notch, the corresponding screen content around the notch can be hidden (deactivated). The screen is filled with the height of the notch with black color, making the notch invisible.
Android 9 (LG UX 9.0)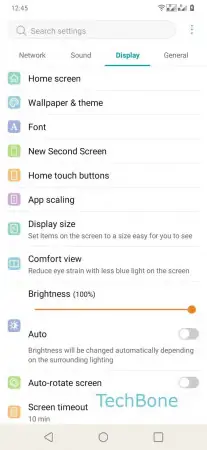 Open the Settings
Tap on Display
Tap on New Second Screen
Tap on Custom
Choose desired App corners
---