OnePlus
How to Adjust Security Settings
OnePlus
212
Table of contents
---
Google Play Protect
Google Play Protect scans the apps during and after download for potential risks or malware, and rescans the already installed apps at regular intervals.
If a risk or security vulnerability is detected, we are notified immediately and can uninstall the corresponding app.
If a higher threat level is detected, Play Protect automatically disables the downloaded app and waits until uninstallation.
Google Play Protect is a Play Store service, which is why we are redirected to it when the settings are opened.
Android 10 (OxygenOS 10.0)
Open the Settings
Tap on Security & lock screen
Tap on Google Play Protect
Open the Settings
Enable or disable Scan apps with Play Protect
Confirm with Turn on/off
---
Show passwords
When entering a password on the OnePlus smartphone, by default the characters you type are displayed briefly until they change to an asterisk (*) symbol.
Those who insist on additional security can deactivate this function and thus protect themselves from prying eyes.
Android 10 (OxygenOS 10.0)
Open the Settings
Tap on Privacy
Enable or disable Show passwords
---
Device admin apps
We can designate apps as device administrators, who will be given special rights and access to the OnePlus smartphone.
This includes changing system settings or remotely deleting the smartphone's data, for example, with separate access to internal memory.
The device management apps also receive permission to disable or change the unlock password.
For example, the FindMyDevicefunction isgiventhe above-mentioned access to delete all data on the device in case of loss or theft.
Note: It is strongly recommended that only trusted apps and services be designated as device administrators to avoid potential security risks or damage.
Android 10 (OxygenOS 10.0)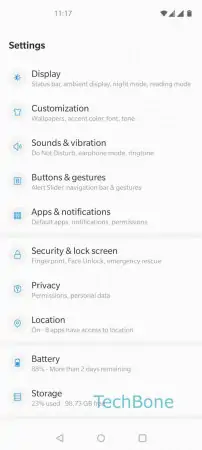 Open the Settings
Tap on Security & lock screen
Tap on Device admin apps
Enable or disable an app
Confirm with Activate this device admin app
---
Find my device
With theFindMyDevicefeature,we canalways find the OnePlus smartphone in the event of theft or loss.
To do this, we simply visit the Google website on the Internet with another smartphone, tablet, laptop or PC and type Find my device in the search bar, then sign in with our Google Account and password to locate the device.
Android 10 (OxygenOS 10.0)
Open the Settings
Tap on Security & lock screen
Tap on Find my Device
Enable or disable Find my Device
---