OnePlus
How to Restart or Turn Off the OnePlus Phone
OnePlus
379
Table of contents
---
Restart
Occasionally, it does no harm to restart the OnePlus smartphone, as this will clear the system cache, close apps in the background and complete any new installations of apps or updates.
A restart cleans up the system and often resolves system errors caused by overlapping cache files.
Android 10 (OxygenOS 10.0)
Press and hold the power button
Tap on Restart
---
Turn off
It is a well-known fact that smartphones today come with many different modes that make it unnecessary to turn off the device.
These include, for example, Do Not Disturb, the concentration/rest mode or the relaxation mode.
Each mode differs in its functionality, but ensures that we are not disturbed or distracted even though the device is turned on.
It is still useful or recommended to turn off the OnePlus smartphone from time to time, as this will clean up the system or memory, terminate background processes and complete installations.
A further advantage is the allowed resting phase for the battery, which not only leaves the battery capacity untouched, but also extends the life span, as fewer charging cycles are necessary.
Android 10 (OxygenOS 10.0)
Press and hold the power button
Tap on Power off
---
Power button starts On/Off Menu or Voice assistant
After setting up the OnePlus smartphone for the first time, sooner or later we reach the point where the device has to be restarted or even switched off.
As you know, if we press and hold the on/off button on the side of the device, the Google voice assistant is started by default.
We are asked by the OnePlus smartphone whether to keep the function or to select the power On/Off menu by holding down the power button, but it can happen that this setting option is tapped away.
If this is the case, we can still select and set the off menu afterwards in the key and gesture settings.
Note: If we want the Voice Assistant to start by default when the Power button is held down, we can open the Power Off menu on the device by pressing the Louder button + Power button.
Android 10 (OxygenOS 10.0)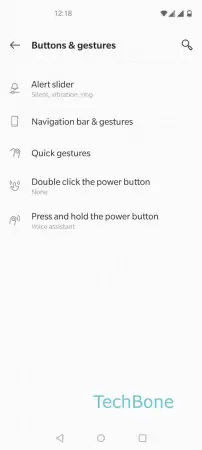 Open the Settings
Tap on Buttons & gestures
Tap on Press and hold the power button
Choose Power menu or Voice assistant
---