Oppo
Developer Options
Oppo
79
Table of contents
---
Disable Developer options
If the developer options are not needed, they should be disabled for security reasons.
Android 10 (ColorOS 7.0)
Open the Settings
Tap on Additional settings
Tap on Developer options
Disable Developer options
---
Enable Developer Options
The developer options offer settings that are useful for developing apps and software, but also provide some functions that are needed for example for synchronizing data.
The developer options can be activated on the Oppo-Smartphone by tapping 7 times on the build number. Only then the menu item for the developer options is visible.
Different from what you are used to under Android, the developer options can be found again after activation under the menu item "Additional settings".
Android 10 (ColorOS 7.0)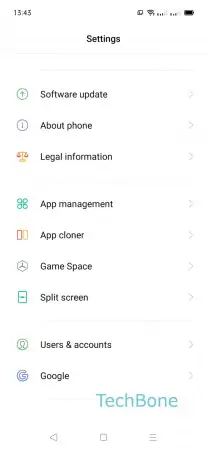 Open the Settings
Tap on About phone
Tap on Version
Tap Build number seven times in a row
Enter your PIN/Password/Pattern
---
USB Debugging
USB debugging is a feature that allows developers (programs) to have advanced access to the Oppo smartphone, but to enable USB debugging, the developer options must first be enabled.
Android 10 (ColorOS 7.0)
Open the Settings
Tap on Additional settings
Tap on Developer options
Enable or Disable USB debugging
Confirm with OK
---