Samsung
How to Manage Accounts in Calendar
Samsung
262
Table of contents
---
Displayed accounts
The calendar on the Samsung device usually shows all accounts that have been logged in, and the following calendar/accounts are available by default
Own telephone
Gmail
Samsung account
App Events
The accounts cannot be completely removed from the calendar, they can only be hidden.
Android 10 (One UI 2.0)
Open the Calendar-App
Open the menu
Tap on desired Account
Hide or Unhide the Account
---
Add account to calendar
The Samsung calendar uses information such as appointments, tasks, birthdays etc. from your own phone memory or from accounts such as those from Samsung and Google, and you can also add an Exchange account.
Android 10 (One UI 2.0)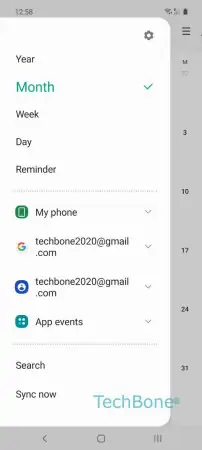 Open the Calendar-App
Open the menu
Open the Settings
Tap on Add new account
Choose desired Account
---