Samsung
How to Enable or Disable Wi-Fi
Samsung
467
Table of contents
---
Enable or Disable Wi-Fi
With WLAN it is possible to exchange data within a network, but the main use is to connect to the Internet. Before a connection to a network, usually a router, can be established, WLAN must be switched on.
Note: On Samsung devices, WLAN can be switched on/off using the settings and the quick settings in the status bar.
Android 10 (One UI 2.0)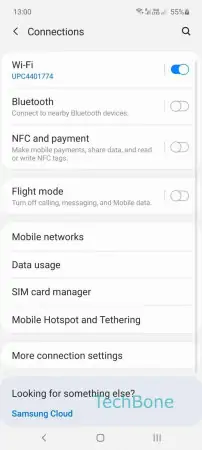 Open the Settings
Tap on Connections
Enable or disable Wi-Fi
---
Turn on/off Wi-Fi automatically
One UI from Samsung allows its users to automatically switch WLAN on or off. When a new WLAN connection is established, the Samsung device saves the current location. If the location is visited frequently, WLAN is switched on if it is not already activated. If the location is left again, the Samsung device switches WLAN off again.
Android 10 (One UI 2.0)
Open the Settings
Tap on Connections
Tap on Wi-Fi
Open the menu
Tap on Advanced
Enable or disable Turn on Wi-Fi automatically
---