Xiaomi
How to Use Game Turbo
Xiaomi
166
Table of contents
---
Game Turbo - Settings
Game Turbo has a lot of setting options to optimize gaming on the Xiaomi smartphone and an external screen, which are easy to overlook, so we mentioned them separately, including the following features that can be turned on or off:
Game Speed Booster
Ingame shortcuts
Align home page
Home screen shortcut
Bandwidth priority
Accepting calls hands-free
Restricting system functions while playing
Restrict keys and gestures
Note: In this manual we will only guide you to the game turbo settings, which can be (de)activated by tapping on the buttons.
Android 10 (MIUI 12.0)
Open the Settings
Tap on Special features
Tap on Game Turbo
Open the Settings
Enable or disable a desired feature
---
Enable or Disable Game Turbo
If we cast / mirror the Xiaomi's screen to a monitor or TV, we can also enjoy games to the fullest, and the Game Turbo function helps us here, which for example ensures faster transmission and restricts selected system functions to ensure smooth gaming.
Note: We can add games separately to Game Turbo.
Android 10 (MIUI 12.0)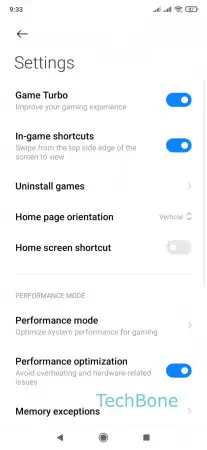 Open the Settings
Tap on Special features
Tap on Game Turbo
Open the Settings
Enable or disable Game Turbo
---