Xiaomi
How to Change Ringtone
Xiaomi
3340
Table of contents
---
Set Ringtone
We can adjust the ringtone of the Xiaomi smartphone. the ringtone is set as default and will be played for incoming calls.
if no other ringtone is set in other apps that support video telephony, for example, the selected default ringtone will be played. If we use the dual-SIM function, we can set or specify the ringtone for calls on the respective SIM card individually.
Android 10 (MIUI 12.0)
Open the Settings
Tap on Sound & vibration
Tap on Ringtone
Choose a SIM card (Dual SIM)
Tap on All ringtones
Choose a ringtone
---
Custom ringtone
On the Xiaomi smartphone, we can not only use standard ringtones for calls, but also choose our own custom ringtone, like a song, for example.
It is not necessary to copy the ringtone to the "Ringtones" folder, as was common in earlier versions; the user's own ringtone can be saved as desired on the internal memory or memory card.
Android 10 (MIUI 12.0)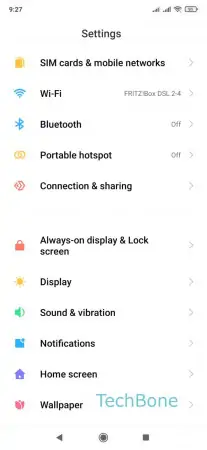 Open the Settings
Tap on Sound & vibration
Tap on Ringtone
Choose a SIM card (Dual SIM)
Tap on All ringtones
Tap on Choose local ringtone
Tap on File Manager
Choose an audio file/ringtone
Tap on OK
---