Xiaomi
How to Set up Switch access
Xiaomi
1304
---
Switch access allows people with motor disabilities to operate the Xiaomi smartphone and other mobile devices using one or more switches. Switches can be used to select items, scroll, enter text and more. Suitable devices can be connected via USB or be paired via Bluetooth.
Android 11 | MIUI 12.0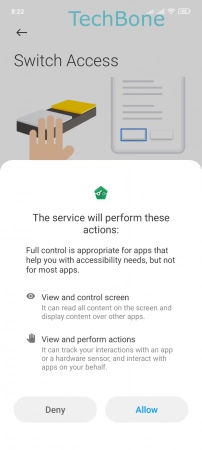 Tap on Settings
Tap on Additional settings
Tap on Accessibility
Tap on Physical
Tap on Switch Access
Enable or disable Use Switch Access
Tap on Allow
Choose USB switch or Bluetooth switch
Tap on Next and follow the instructions on screen
Download instructions?
If you need the manual often or offline, you can download it here as a PDF document for free.
Download
---