Huawei
Security and privacy settings (Browser)
Huawei
1006
The browser app on the Huawei smartphone brings some features to make surfing the Internet even safer, for which we have the following options:
Safe browsing: Automatically check the security of visited websites.
Do Not Track: Do not track visited websites or record data.
Block tracking cookies: Automatically block third-party cookies that track user activity.
Android 10 | EMUI 10.0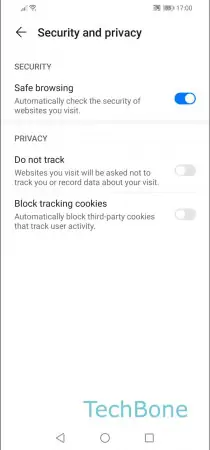 Open the Browser app

Open the menu
Open the Settings
Tap on Security and privacy
Enable or disable Safe browsing, Do not track or Block tracking cookies
---