OnePlus
How to set schedule for night mode
OnePlus
676
The night mode on the OnePlus smartphone can also be automatically turned on and off according to your own schedule.
For this, we can set an individual start and end time, or set the Auto Activate from Sunset to Sunrise rule.
To adjust the color temperature and brightness after activation, the reading mode must be activated briefly.
The settings made remain saved.
Android 10 | OxygenOS 10.0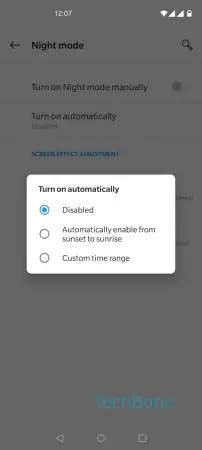 Open the Settings
Tap on Display
Tap on Night mode
Tap on Turn on automatically
Choose Automatically enable from sunset to sunrise or Custom time range
---