Samsung Galaxy A21s

How do I activate WiFi Calling when there is nothing in settings for this?
The instructions are clear. Just one minor problem.The WiFi Calling setting does not exist
Samsung Galaxy A21s SM-A217M/DS
Is it possible to add or activate the WiFi Calling setting on an International Dual SIM A21s?
---
6 Answers
---
Hello Fritz!
If the WiFi calling settings do not exist or are not displayed on the device, please contact your network provider to find out if it is supported.
Waiting for your reply.
Greetings!
Provider: FreedompopAdvertises as supporting WiFi Calling on any phone that supports the featureActivated on their end. Verified that it is active about 6 times nowDevelopers on their end are mystified as they cannot find a reason this phone would not be supportedApp from Playstore called "WiFi Calling" claims to detect and reveal the setting regardless of network support if the handset has the feature. WiFi Calling also draws a blank.
Samsung & Verizon are quite clear about how to turn it on.*Connect to a network that supports it: Freedompop believes they do support it*Go to Settings->Connections->WiFi Calling and turn it on
One minor problem. The setting does not appear on this Samsung Galaxy A21s
Another tech site gave instructions on turning the feature on if it is disabled by default*Go to Developer Options*Find WiFi Calling*Enable WiFi Calling
Unfortunately the feature does not appear in Developer Options so it cannot be enabled that way.
I like the phone. Unfortunately I need the WiFi Calling on a Dual SIM phone, so this otherwise completely acceptable phone is for now scheduled to be a very expensive paperweight & getting more expensive as I continue to pay cell network access fees while connected to WiFi as I continue to search for a dual SIM phone of equal or better quality that actually supports WiFi Calling.
Hello Fritz!
Please check with the following guide if it's just a small mistake, as the function is normally found in the Phone app and not in the Settings.
Best regards!
---
Android 10 | One UI 2.0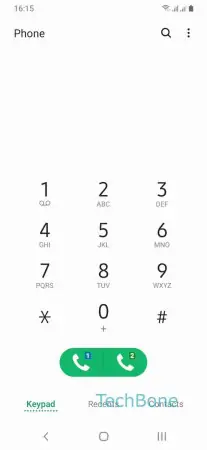 Open the Phone app
Open the menu
Open the Settings
Tap on Wi-Fi Calling
Choose a SIM card
Enable or disable Wi-Fi Calling
---
Confirmed to be missing from A217M. Buying an A217F to get WiFi Calling support for my US phone number while abroad.
Settings App including pull down menu, Phone app->triple dot->settings, and Developer Options do NOT have any hint of this feature
Freedompop's developers are mystified as "all new GSM Android phones have this feature" (Based on searches to find out why it is broken, it appears that only two North American dual SIM Android handsets support this feature, neither is a Samsung phone)
WiFi Calling is a major selling point for the Freedompop service. WiFi Calling is activated for my Freedompop SIM (confirmed multiple times)
Multiple Android support forums report the Dual SIM A21s as not supporting WiFi Calling
Learning that Samsung does not support this advertised feature on dual SIM devices has been expensive :(
This buyer is looking forward to the patch that adds this feature to dual SIM Samsung devices :)
Update: The A217M/DS is now supporting WiFi Calling.
I am not sure what activated it after several months of nonsupport, but the only change has been putting a second SIM in Slot 2. Two days after this was done, the setting suddenly appeared in Settings. The slot 2 SIM is from Smart (PLTD Philippines) and is activated for international roaming. No WiFi Calling activation request was made for this SIM
I'm not experimenting with this to see what activated the feature as I need it working for at least the next three months. Later when it is not critical I will experiment to see how removing a SIM or rearranging SIMs affects operation.
This has been a very frustrating experience. An error code indicating failure reason would be much better than presence/absence for no apparent reason, but if wishes were fishes...
Keeping the single SIM phone I purchased. It will be either a gift or spare phone :)I do like the A217 phones.
---
Write reply
To be able to write an answer you must first register!