Samsung Galaxy Tab A7 Lite

Decrypt SD card
I have a new Galaxy A7lite. It is fine for my needs.
I have installed an sd card and encrypted it. I can find no way to decrypt it. When I go to settings, then to incrypt card I can find nowhere a "decrypt" tab to tap to decrypt.
Can you help? Thanks
Jim
---
12 Answers
---
Hi Jim!
Normally the option to decrypt is in the same menu. This is only shown when the SD card is really encrypted. Here is the corresponding tutorial to check this.
Greetings
---
Android 11 | One UI 3.0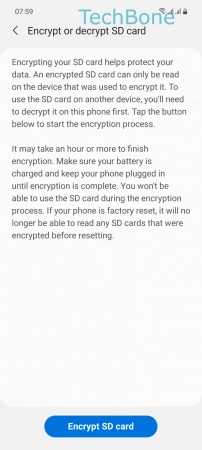 Tap on Settings
Tap on Biometrics and security
Tap on Encrypt or decrypt SD card
Tap on Encrypt/Decrypt SD card
Enter the current Pattern, PIN or Password
---
Denny,
Good evening.  Thanks so much for the response,  I followed directions found on YouTube and on line,
I can find no "decrypt" when I go back biometrics andse unity.  The note only tells me that the card had been encrypted. It's also strange, that when I move a file, picture, video, etc. The original stays on the internal storage. 
Now... I don't use a password to log on to my tablet, I just swipe the screen. Could that have something to do with both issues?
Thanks again. I appreciate your efforts.
Hi Jim,
According to our information, it should have nothing to do with whether a screen lock is set up or not.
I have to ask, was the SD card possibly encrypted in another device? Then it is so that it can only be decrypted by that device.
Denny,
Thanks again for the response.
I formatted the new 12GB PNY SD card on this device.
I have attached, I hope pictures of the note I get when I try to decrypt it. My understanding is when you encrypt a card it becomes unable to be accessed. This one is still accessible.
I'm going to remove it and try another one. I really don't need it encrypted. Just trying out my new tablet.
My bigger issue is that when I move something to the SD card, it is still in the internal storage space.  If I delete it from the internal storage, it's removed from the SD card. 
Time to return the tablet? 
Thanks again,
Jim
P.S. can't figure out how to send pictures on this forum
Hey Jim!
Thanks for describing it in more detail. What you could try is to check if you can access the data on the supposedly encrypted SD card in another device or PC. That way you can quickly see if the SD card is encrypted, because then you won't have access to any folders or files.
I don't think you have to return the tablet, I think it's because of the system, although by now I think the card is used as shared storage and not secondary storage.
I'll talk to my colleague about this and see if he has any ideas.
Best regards,
Denny
Denny,
You have been so helpful.  Thanks so much.
I will move this card to another tablet and see what happens. I'll let you know.   How can I send  photos of the note I get?  It may help, or not. 
Jim
Denny 
I hope you get this note.  I'm not familiar with your site.
I took my SD card out and inserted it into my computer. It didn't recognize it.  It wanted to format it.  Thus thing is making me crazy.  I don't really care about encrypting or decrypting.   More worried about things from internal storage remaining after being moved to SD card.
Thanks again,
Jim
Denny,
I got it figured out.  Moving files are now working properly.  If I had been thinking logically the problem would never have  occurred.
Still can't figure out the decrypting issue, but that is not all that important to me.
Thanks again for your help and causing me to think logically. 
Jim
Hello Jim!
Apparently I did not think logically either. ;) What was the problem?
Denny
Denny,
Well........this is embarrassing. Being the smart young man (74) I think I am, when using a new device, I tend to be careful.  Therefore I make copies of anything I move from one device to another.  I made copies. I moved a COPY from internal storage to the SD card. Then, after acknowledging it was there, I deleted the original In the internal storage space. 
Not realizing I had just deleted both the original and the copy files. Dumb!
Still haven't figured out the decrypting of that card, but it doesn't really matter at this point.
Sorry for the lengthy answer.  
Thanks again for all you help.
Jim
Dear Jim,
thanks for the answer. these things happen, so don't worry about it. ;)
Can you upload a screenshot of the encrypting/decrypting option?
Denny, 
I'm too old to worry about things like this.  They're just frustrating.   I have screen shots of the encrypt messages but none that say decrypt.
I would be happy to send screen shots of what I have.  Hopefully they are attached.  These are the only tabs/notes that have anything to do with incrypt/decrypt. 
Jim
---
Write reply
To be able to write an answer you must first register!