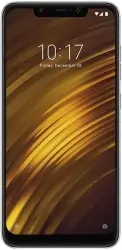 Xiaomi Pocophone F1

OTG option not showing up
I follow the instruction on how to enable OTG support on my pocophone f1. When I went to additional settings it doesn't show the option for it. Please help me to resolve this issue asap.
---
1 Answers
---
Hello JJskiller!
If you can't find the option as shown in our guide, the phone will automatically detect when compatible OTG devices are connected.
Please check the notification bar or the file manager.
Best regards!
---
Write reply
To be able to write an answer you must first register!