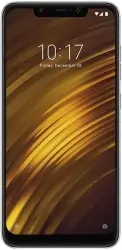 Xiaomi Pocophone F1

Support
Instructions & Support
Filter
Accounts
Alarm clock
Apps & Notifications
Backup
Battery
Bluetooth
Browser
Calendar
Camera
Clock
Clock & Alarm
Connected devices
Contacts
Date & Time
Developer Options
Digital wellbeing
Display
Do not disturb
Functions
Gallery
General administration
Guest account
Home screen
Keyboard
Language
Layout
Location
Lock screen
Memory card
Messages (SMS)
Mobile network
Network
Phone
Privacy
Quick Ball
Reset
Screen Mirroring
Security & Privacy
Shutter
Software update
Storage
System
Text correction
The device
Timer
Volume & Tones
Word suggestions
Manuals & Downloads
Currently you can find here five various manuals and/or quick start guides for the Xiaomi Pocophone F1. You can view the manual for the Pocophone F1 of Xiaomi online or download it as a PDF file (Download).
Should we notify you once we've added another user guide for the Xiaomi Pocophone F1?
Topics on Xiaomi Pocophone F1
The following topics have recently been posted by the community about Xiaomi Pocophone F1. Join the discussion and interact with thousands of other users about Pocophone F1 from Xiaomi!
Hi my pocophone F1 dropped out if my pocket and I lost it, luckily my neighbour found it, only trouble is I rang it...
Joeblog •
3 Answers • Last answer 2 weeks ago
I follow the instruction on how to enable OTG support on my pocophone f1. When I went to additional settings it...
I am installing a custom DNS to apply a family filter on a phone that I want to be able to protect from being...
moofawsaw •
1 Answers • Last answer 8 months ago