Xiaomi
How to Turn on/off One-handed mode
Xiaomi
1245
---
On the Xiaomi smartphone, the one-handed mode can be activated, which makes the screen content appear smaller, making it easier to use with just one hand. when the
function is activated, we can wipe left or right from the home button to reduce the current window and slide it to the respective corner, and we can also set a size of 3.5/4.0/4.5 inches.
Android 11 | MIUI 12.0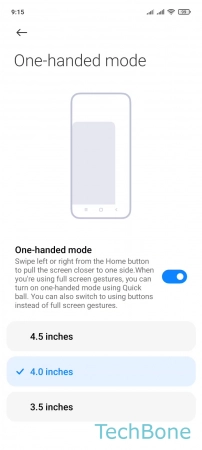 Tap on Settings
Tap on Additional settings
Tap on One-handed mode
Enable or disable One-handed mode
Set 4.5 / 4.0 / 3.5 inches
Download instructions?
If you need the manual often or offline, you can download it here as a PDF document for free.
Download
---