Xiaomi
How to Change TalkBack controls
Xiaomi
547
---
Besides the changed navigation, after activating the TalkBack function, we find additional settings on the Xiaomi smartphone to make TalkBack even more user-friendly. The following options are available:
Selection by tapping once
Touch gestures
Keyboard shortcuts
Custom Labels
Note: In this guide we will only disable selection by typing once, other options can be accessed the same way.
Android 11 | MIUI 12.0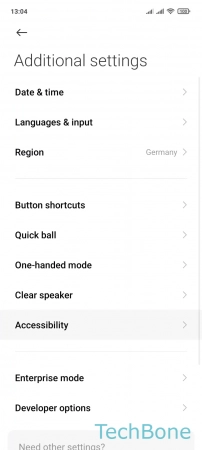 Tap on Settings
Tap on Additional settings
Tap on Accessibility
Tap on Vision
Tap on TalkBack
Tap on Settings
Tap on Advanced settings
Set Custom labels / Keyboard shortcuts or turn on/off Single-tap activation
Download instructions?
If you need the manual often or offline, you can download it here as a PDF document for free.
Download
---