Xiaomi
How to Adjust Audio balance
Xiaomi
5861
---
We can adjust the audio balance on the Xiaomi smartphone to the user's needs by means of a slider, which allows the audio volume of the left or right output channel to be adjusted completely continuously.
Note: Headphones or headsets are provided for the output of the specified audio balance settings, as many Xiaomi devices only have one speaker, otherwise this function is not necessary.
Android 11 | MIUI 12.0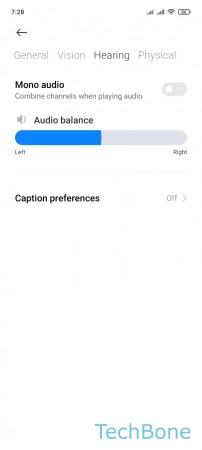 Tap on Settings
Tap on Additional settings
Tap on Accessibility
Tap on Hearing
Swipe left or right to adjust the Audio balance
Download instructions?
If you need the manual often or offline, you can download it here as a PDF document for free.
Download
---