Huawei
How to enable or disable Google Play Protect
Huawei
5121
Google Play Protect protects the Huawei smartphone from malicious software by scanning apps for potential risks during and after download, and periodically checking apps
from unknown sources.
If a security risk is detected, we will be notified and in case of a significant risk or security hole, the affected app will be disabled immediately until it is uninstalled.
Note: The Google Play Protect settings redirect us directly to the Play Store, as it is a direct function of Google Play Store.
Android 10 | EMUI 10.0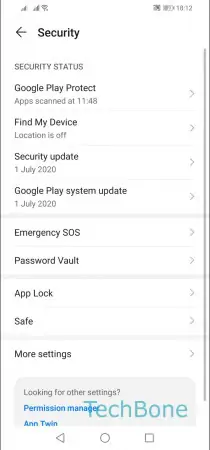 Open the Settings
Tap on Security
Tap on Google Play Protect
Open the Settings
Enable or disable Scan apps with Play Protect
Tap on Turn off
---