Oppo
How to Set up Game Space
Oppo
158
Table of contents
---
Game Space
Game Space is the game launcher on Oppo smartphones that helps us provide a better gaming experience by allowing you to hide notifications, automatically reject incoming calls, or use other useful features.
Game Space can be enabled or disabled in the preferences.
Android 10 (ColorOS 7.0)
Open the Settings
Tap on Game Space
Enable or Disable Game Assistant
---
Manage Apps
In order for apps or games to start in the Game Space environment, they must be added in the settings, only then the started app will be optimized and the functions can be used.
Android 10 (ColorOS 7.0)
Open the App Game Space
Tap on Add
Enable or Disable desired Games
---
Calls/Notifications while playing games
In addition to notifications, the Oppo smartphone can also suppress calls while playing. If a game or app is added to the Game Space Launcher, the option can be activated/deactivated. Calls are not displayed while playing. The following options are available:
Block notifications
Reject Calls
Block calls and notifications
Alow calls and notifications
Android 10 (ColorOS 7.0)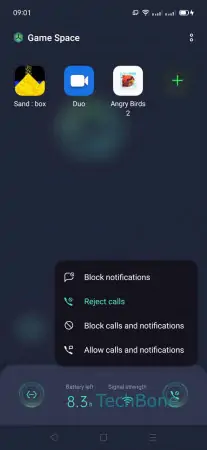 Open the App Game Space
Tap on Calls and Notifications
Choose between Block notifications, Reject calls, Block calls and notifications and Allow calls and notifications
---