Oppo
How to Enable or Disable Mobile Hotspot
Oppo
101
If the Oppo smartphone has mobile data, the Internet can be shared with connected devices via a personal WLAN hotspot, with the Oppo device acting as a router to which other devices can connect.
The WLAN hotspot can be activated or deactivated on the Oppo smartphone under the settings for wireless connections.
Note: The WLAN hotspot can also be switched on or off in the Quick Settings.
Android 10 | ColorOS 7.0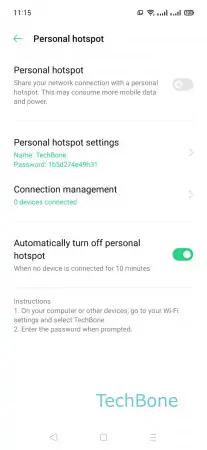 Open the Settings
Tap on Other Wireless Connections
Tap on Personal hotspot
Enable or Disable Personal hotspot
---