realme
How to Turn On/Off Caller ID Announcement
realme
13
---
We can specify whether to announce incoming calls on the realme smartphone. Either the name of the stored contact or the phone number is read aloud.
For the Caller ID announcement we can set one of the following options:
Always
Only when using a headset (Bluetooth/Wired)
Never
Android 11 | realme UI 2.0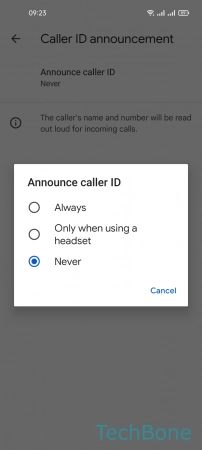 Tap on Phone
Open the Menu
Tap on Settings
Tap on Caller ID announcement
Tap on Announce caller ID
Choose Always, Only when using a headset or Never
Download instructions?
If you need the manual often or offline, you can download it here as a PDF document for free.
Download
---