Samsung
How to Use Dark Mode
Samsung
837
Table of contents
---
Dark Mode
With Android 10 (One UI 2), the system-wide dark mode comes to the Samsung device. Dark Mode not only protects the eyes at night, but also reduces battery consumption on Samsung devices with AMOLED display. Dark Mode can be switched on/off manually or automatically. In addition, an adaptive color filter (blue light filter) is available that is automatically activated between sunset and sunrise.
Note: This manual shows how to switch Dark Mode on/off manually.
Android 10 (One UI 2.0)
Open the Settings
Tap on Display
Choose between Dark Mode and Light Mode
---
Schedule Dark Mode
Dark Mode can be automatically switched on and off on the Samsung device, either between sunset and sunrise or according to a user-defined schedule.
Android 10 (One UI 2.0)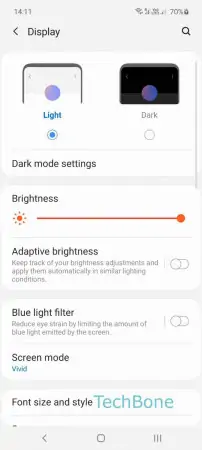 Open the Settings
Tap on Display
Tap on Dark mode settings
Enable or disable Turn on as scheduled
Choose between Sunset to sunrise and Custom schedule
---