Samsung
How to Turn Off TalkBack
Samsung
694
---
With the Voice Assistant, elements can be read aloud on the Samsung device; once the spoken audio guide has been activated, it is quite cumbersome to deactivate it, as the operation is also somewhat different than usual.
Tapping once reads out the element and is marked/framed in blue
Tap twice on the highlighted item to start the app or open Preferences
Scrolling with two fingers instead of one
This guide shows how to disable Voice Assistant (commonly called TalkBack on Android) on the Samsung device.
Android 11 | One UI 3.0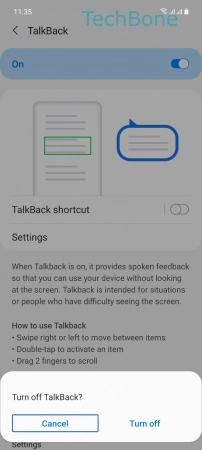 Tap on Settings
Tap twice on Settings
Swipe with two fingers
Tap on Accessibility
Tap twice on Accessibility
Tap on TalkBack
Tap twice on TalkBack
Tap on On
Tap twice on On
Tap on Turn off
Tap twice on Turn off
Download instructions?
If you need the manual often or offline, you can download it here as a PDF document for free.
Download
---