Samsung
How to Turn On/Off "Send SOS messages"
Samsung
1056
---
If the function key is pressed three times in quick succession, the Samsung sends an emergency text message to the previously defined emergency contacts, including at least the approximate location and, if desired, pictures (from front/main camera) and a 5-second audio recording.
Note: The emergency SMS is not to be seen as a replacement for an official emergency call and serves only as quick information for the emergency contacts!
Android 11 | One UI 3.0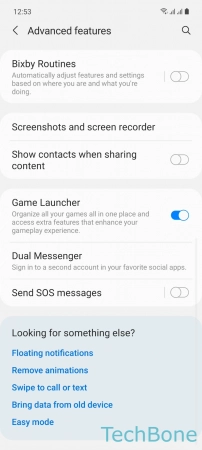 Tap on Settings
Tap on Advanced features
Tap on Send SOS messages
Enable or disable Send SOS messages
Choose Create contact or Select from contacts
Select a Contact
Tap on Done
Tap on Back
Set other Options
Download instructions?
If you need the manual often or offline, you can download it here as a PDF document for free.
Download
---