Samsung
How to Use "Send SOS messages"
Samsung
1724
Table of contents
---
Emergency contacts
Emergency contacts are contacts that are important in an emergency, to which SOS messages are sent or to which calls can be made even if the Samsung device is locked.
The emergency contacts can be managed in the Contacts app.
Android 10 (One UI 2.0)
Open the Contacts-App
Tap on your own profile
Tap on Emergency contacts
Tap on Edit
Tap on Add member
Select desired contacts
Confirm with Done
Tap on Save
---
Emergency information
on the samsung device we can store medical emergency information that is intended for rescue workers in an emergency. the information is stored in your profile via the contacts app and can be viewed by everyone (only the information). possible information is
Medical findings
Allergies
Current medication
Blood group
Other
Android 10 (One UI 2.0)
Open the Contacts-App
Tap on your own Profile
Tap on Medical info
Enter Information you want and confirm with Save
---
Send SOS messages
If the function key is pressed three times in quick succession, the Samsung sends an emergency text message to the previously defined emergency contacts, including at least the approximate location and, if desired, pictures (from front/main camera) and a 5-second audio recording.
Note: The emergency SMS is not to be seen as a replacement for an official emergency call and serves only as quick information for the emergency contacts!
Android 10 (One UI 2.0)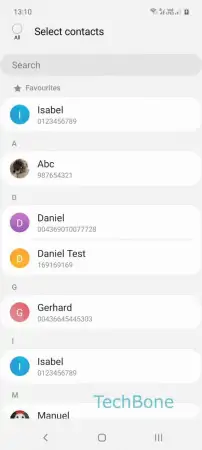 Open the Settings
Tap on Advanced features
Tap on Send SOS messages
Enable or disable Send SOS messages
Tap on Add
Choose between Create contact and Select from Contacts
Tap on desired contacts
Confirm with Done
Tap on Back
---