Android
How to Set up Access Point Names (APNs)
Android
74
---
An access point is needed to send or receive SMS/MMS on the Android smartphone. Mobile data also needs a correctly configured access point. APN data is usually configured after registering into the network, but can also be added manually.
Android 12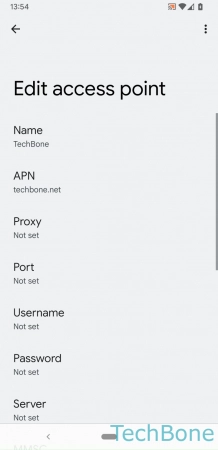 Tap on Settings
Tap on Network and Internet
Tap on Internet
Tap on Settings
Tap on Access point names
Tap on Add
Enter the Corresponding data
Open the Menu
Tap on Save
Download instructions?
If you need the manual often or offline, you can download it here as a PDF document for free.
Download
---