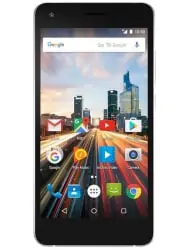 Archos 55f Helium

Support
Instructions & Support
Filter
Alarm clock
Apps & Notifications
Apps & Shortcuts
Battery
Browser
Contacts
Data warning and limit
Date & Time
Developer Options
Display
Display enhancements
Do not disturb
Fingerprint
Folder
Font
Functions
Groups
Home screen
Interaction and dexterity
Languages & Input
Location
Lock screen
Memory card
Messages (SMS)
Mobile data
Mobile network
Network
Phone
Privacy
Screen lock
Screen reader
Screen saver
Security & Privacy
Settings
Shutter
Smart Lock
Status bar
Storage
System sounds
Tethering
Text correction
Timer
Vibrations
Volume
Volume & Tones
Wi-Fi Direct
Widgets
WLAN
WLAN-Hotspot
Manuals & Downloads
Currently you can find here zero various manuals and/or quick start guides for the Archos 55f Helium. You can view the manual for the 55f Helium of Archos online or download it as a PDF file (Download).
No operating instructions available
Archos has not yet published an official user guide for the 55f Helium, alternatively we can offer you our detailed Archos guides.
Archos Instructions
Buy manual
On Amazon you can find a lot of unofficial manuals, maybe there is also something for the Archos 55f Helium
To Amazon*
Unfortunately there is no english manual available for the Archos 55f Helium yet. Should we notify you as soon as we have added another manual?