Samsung
How to Allow/Deny Messages (Do not disturb)
Samsung
305
---
If the Do Not Disturb mode is activated on the Samsung device, no new messages, i.e. SMS and MMS, will be displayed by default. In the exceptions, we can specify that incoming messages are allowed. Here we have the choice of All, Contacts only or Preferred contacts only (Favourites).
Android 11 | One UI 3.0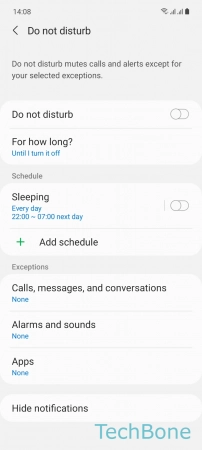 Tap on Settings
Tap on Notifications
Tap on Do not disturb
Tap on Calls, messages and conversations
Tap on Messages
Choose All, Contacts only, Favorite contacts only or None
Download instructions?
If you need the manual often or offline, you can download it here as a PDF document for free.
Download
---