Samsung
How to Turn On/Off "Lock instantly with Side key"
Samsung
2129
---
If a Lock screen has been set up, the Samsung device is locked immediately when the on/off button is pressed. When the display is switched back on directly, the password, PIN or pattern is then requested. If the "Lock automatically" function is used, this function can be switched off to save having to unlock it again.
Note: Depending on the model, the function key is meant instead of the power on/off key.
Android 11 | One UI 3.0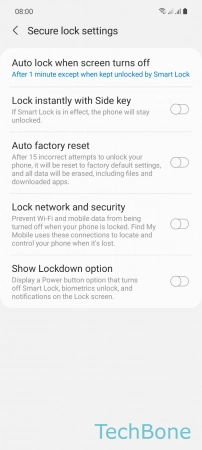 Tap on Settings
Tap on Lock screen
Tap on Secure lock settings
Enter the current Pattern, PIN or Password
Enable or disable Lock instantly with Side key
---