Samsung
How to Customize Quick decline messages
Samsung
550
---
Quick decline messages (short messages) can be sent automatically when a call is rejected, and are predefined messages such as "Please text me", "Can you call back later?" or "I'll call you back". when you select the quick message, the call is rejected and an SMS containing the contents of the quick messages is sent directly. in the settings, you can edit the predefined messages and create three more. up to six quick messages can be stored on the Samsung device.
Android 11 | One UI 3.0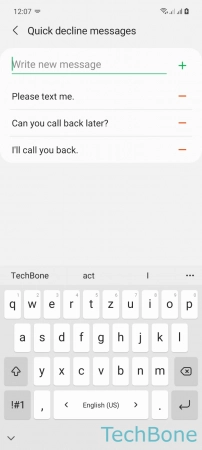 Tap on Phone
Open the Menu
Tap on Settings
Tap on Quick decline messages
Delete or enter a new Message
Tap on Add
Download instructions?
If you need the manual often or offline, you can download it here as a PDF document for free.
Download
---