Android
How to Edit Quick Responses in Phone App
Android
4875
---
Incoming calls can be rejected on the Android device with a quick response. We can edit the default responses in the settings and we have four responses available for this:
"Can´t talk now. What´s going on?"
"Can I call you back later?"
"I´ll call you later."
"Can´t talk now. Call me later?"
Android 12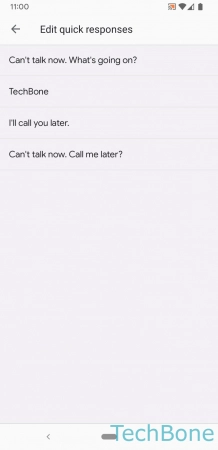 Tap on Phone
Open the Menu
Tap on Settings
Tap on Quick responses
Choose a Quick response
Enter a Quick response and tap OK
---