Oppo
How to Block Incoming Calls or Phone Numbers
Oppo
56
Table of contents
---
Block a Phone number
Using the Oppo smartphone's blacklist, we can enter phone numbers where all incoming calls and messages are automatically blocked.
By default we receive a notification about the call/message, but this can be deactivated.
Android 10 (ColorOS 7.0)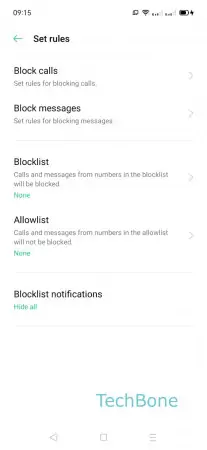 Open the Phone-App
Open the Menu
Tap on Block & Filter
Open the Menu
Tap on Set rules
Tap on Blocklist
Tap on Add
Choose between Enter number, Block by prefix and Select number
Enter phone number and tap on Add
---
Block Unknown Callers
The Oppo-Smartphone offers the possibility to reject unknown callers automatically, meaning that if the phone number is not saved as a contact, the call is automatically rejected.
The function also offers as an exception, if the same caller within 3 minutes again, it is not blocked.
Android 10 (ColorOS 7.0)
Open the Phone-App
Open the Menu
Tap on Settings
Tap on Set Rules
Tap on Block calls
Enable or Disable Block calls from private numbers
Confirm with Turn on
---