Huawei
How to Manage User Accounts
Huawei
576
Table of contents
---
Switch user accounts
The created user accounts on the Huawei smartphone can be switched very easily. After creating a new user, you are asked directly if you want to switch. Later you will only have to call up the quick settings.
Note: A change is also possible via the Settings app.
Android 10 (EMUI 10.0)
Pull down the quick settings
Tap on User and choose an account
---
Add user account
We can share the Huawei smartphone with others by adding a new user account. When one or more new user profiles are created, each account gets its own area where apps, backgrounds, etc. can be customized. Users can set device settings that affect all users, such as wireless network settings.
Android 10 (EMUI 10.0)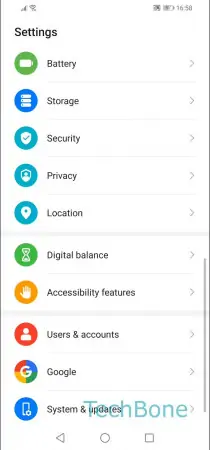 Open the Settings
Tap on Users & accounts
Tap on Users
Tap on Add user
Enter a nickname and tap Add
---
Allow phone calls and SMS (users)
If we have set up another user on the Huawei smartphone, we can specify whether that user account will have access to calls and messages, allowing sharing of the communication flow.
Android 10 (EMUI 10.0)
Open the Settings
Tap on Users & accounts
Tap on Users
Open the menu
Enable or disable Allow calls, messages, and sharing of communication history
---