Huawei
How to Send SMS/MMS Messages
Huawei
4088
Table of contents
---
Send SMS message
Nowadays, messages are not seperated by SMS and MMS anymore. If a file like a picture is attached to the message, it is automatically an MMS. Sent and received messages are stored in conversations and saved on your Huawei device neatly. 
Android 10 (EMUI 10.0)
Open Messages
Tap on Start chat
Choose a contact or type in a number
Type in a message
Confirm with Send
---
Send a SMS to a group
We can decide if we want to send a SMS or MMS to a single person or a group with our Huawei device.  Group SMS are not sent single like a mass SMS, but as a group.
Android 10 (EMUI 10.0)
Open Messages
Open the menu
Open the settings
Tap on Advanced
Tap on Group messaging
Choose between mass text or group MMS
---
Send MMS message
If we want to send messages with file attachments, such as photos or videos, we can select an existing or start a new conversation, enter a text message and attach the desired file. The Huawei smartphone will automatically convert the message into an MMS.
Note: In this manual we will only add an image as an attachment, other options are given.
Android 10 (EMUI 10.0)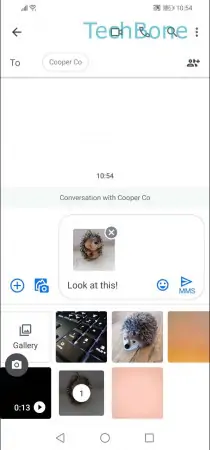 Open the Messages app
Choose a conversation or tap Start chat
Choose a contact
Enter a text message
Tap on Add attachment
Swipe left or right to browse the files
Choose a file
Tap on Send
---
Forward message (SMS)
We can forward received SMS messages of a conversation or chat directly from the Huawei smartphone, taking the selected message as it was received and sending it to either an existing or a new conversation.
Android 10 (EMUI 10.0)
Open the Messages app
Choose a conversation
Tap and hold a message
Open the menu
Tap on Forward
Choose a conversation or tap New message and follow the instructions on screen
---