Huawei
How to Set up Google Assistant
Huawei
1279
Table of contents
---
Activate the Google Assistant with the powerbutton
If this function is activated on the Huawei smartphone, you can hold down the on / off button for a second to start the Google Assistant and consequently be able to use it immediately.
Android 10 (EMUI 10.0)
Open the settings
Tap on Accessibility features
Tap on Motion control
Tap on Google Assistant
Activate or deactivate Wake with Power button
---
Disable Google Assistant from the home button
After setting up the Huawei smartphone, we get access to the Google Assistant not only through the Google search bar, also by home button shortcut. All we have to do is tap and hold the virtual home button in the navigation bar.
If desired, the Assistant app can be turned off or even disabled by selecting None as default assist app.
Android 10 (EMUI 10.0)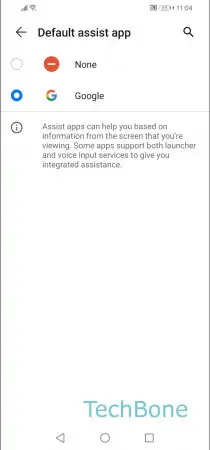 Open the Settings
Tap on Apps
Tap on Default apps
Tap on Assist app
Tap on Assist app
Choose None
---