Table of contents
---
The quick settings
The OnePlus smartphone's quick settings can be accessed by swiping two fingers from the top of the screen.
There we find numerous accesses to the most important functions of the smartphone without having to search for a long time in the settings.
The icons or symbols of the quick settings can be added, removed or arranged as desired.
The following functions are available:
Wi-Fi
Mobile data
Bluetooth
Flashlight
Auto-rotate
Battery Saver
Airplane mode
Night mode
Reading mode
Location
Hotspot
Zen Mode
Screen recorder
Switch data card (SIM 1/2)
Do not disturb
NFC
Screen cast
OTG
Data saver
VPN
Invert colors
Focus mode
Bedtime
Live caption
Nearby share
Android 10 (OxygenOS 10.0)
Swipe with two fingers to open the quick settings
Enable or disable the desired function/feature
---
Edit quick settings
We can customize or edit the quick settings of the status bar on the OnePlus smartphone and add, move, arrange or remove icons to functions or features.
By tapping on the edit icon, we can access the other quick settings that have not yet been added. By dragging an icon to the upper area, it will be saved as a shortcut.
Android 10 (OxygenOS 10.0)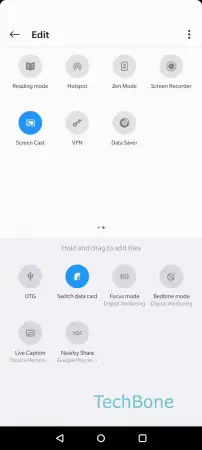 Swipe downwards with two fingers
Tap on Edit
Swipe left or right to browse the quick settings
Tap and hold an icon
Drag the icon in upper area to add it to the quick settings
Release the icon to position it
Tap on Back
---