Xiaomi
How to Manage Accounts
Xiaomi
2114
Table of contents
---
Add account
We can manage all of the linked accounts on the Xiaomi smartphone under one menu item. After downloading an
app, such as WhatsApp or Facebook, an account is automatically created or added to the app. The following accounts can also be added:
Duo
Duo Preview
Exchange
Google
Private (IMAP)
Private (POP3)
Note: In this guide we will only navigate to the account selection menu, please follow the instructions on the screen.
Android 10 (MIUI 12.0)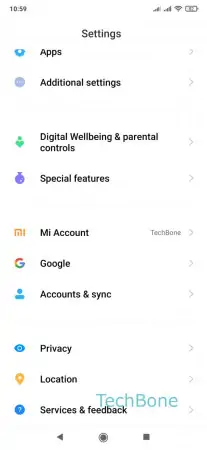 Open the Settings
Tap on Accounts & sync
Tap on Add account
Choose an account type and follow the instructions on screen
---
Remove account
The added accounts can be viewed and edited or removed on the Xiaomi smartphone in a clearly structured manner, including Google, WhatsApp, Facebook, etc. If any of these
linked accounts are removed, the associated data, such as chats, documents or photos may be deleted while the app remains installed.
Android 10 (MIUI 12.0)
Open the Settings
Tap on Accounts & sync
Choose an account type
Choose an account
Tap on More
Tap on Remove account
Confirm with Remove account
---
Auto-sync data
The Xiaomi smartphone automatically synchronizes user data with the Google Account. By default, this feature is enabled, but can be disabled to reduce data and battery consumption. Once disabled, all data must be manually synchronized.
Note: After activating the automatic synchronization, we can specify whether this should be done exclusively via a WiFi connection.
Android 10 (MIUI 12.0)
Open the Settings
Tap on Accounts & sync
Enable or disable Auto-sync data
Confirm with OK
Choose Cancel or Sync
---