Samsung
How to Enable or Disable Location (GPS)
Samsung
626
Table of contents
---
Improve location accuracy
location detection is usually done by receiving satellite data. however, especially in large cities, there are many sources of interference that affect location accuracy. to improve accuracy, the Samsung device has an enhancement feature that is enabled by default. this allows apps to access WLAN and Bluetooth even if these features are disabled.
Android 10 (One UI 2.0)
Open the Settings
Tap on Location
Tap on Improve accuracy
Enable or disable Wi-Fi scanning and/or Bluetooth scanning
---
Location (GPS)
For many services and apps, the location is required. without it, for example, a navigation app will not work. but the location can also be useful for many other features.
By default, the location determined via GPS is activated, but if this is not desired, we can deactivate it on the Samsung device.
Note: The location can also be switched on/off using the quick settings.
Android 10 (One UI 2.0)
Open the Settings
Tap on Location
Enable or disable Location
---
Location usage through apps
In order for apps to be allowed to access the location of the Samsung device, confirmation by the user is necessary. If the location usage was wrongly accepted or rejected, it can be adjusted afterwards.
Location sharing for apps can be done either directly from the app or, as this guide shows, through the location settings, and we are free to decide whether the app is allowed to access the location always or only during use or not at all.
Android 10 (One UI 2.0)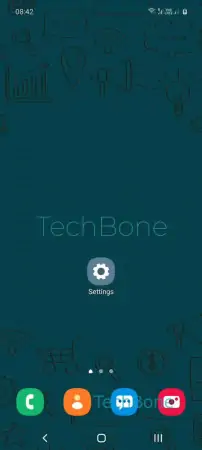 Open the Settings
Tap on Location
Tap on App permissions
Tap on desired App
Choose between Allow all the time, Allow only while using the app and Deny
---