Samsung
How to Take a Screenshot
Samsung
1510
Table of contents
---
Palm swipe to capture
Android 10 (One UI 2.0)
Open the Settings
Tap on Advanced features
Tap on Motions and gestures
Enable or disable Palm swipe to capture
---
Screenshot file format
On the Samsung device, screenshots are saved in JPG format by default. Alternatively, we can also have the screenshots saved in PNG format. This format offers a number of advantages over JPG, such as lossless compression.
Android 10 (One UI 2.0)
Open the Settings
Tap on Advanced features
Tap on Screenshots and screen recorder
Tap on Screenshot format
Choose between JPG and PNG
---
Screenshot toolbar
After taking a screenshot, a toolbar is displayed for a few seconds at the bottom of the Samsung device's screen, from where the screenshot can be split, opened or edited.
The toolbar can be enabled or disabled in the preferences.
Android 10 (One UI 2.0)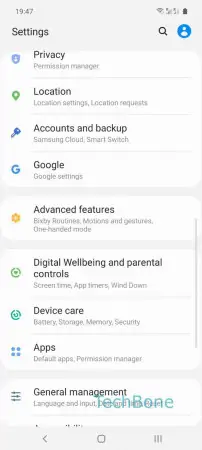 Open the Settings
Tap on Advanced features
Tap on Screenshots and screen recorder
Enable or disable Screenshot toolbar
---